Where are you reading this? What time is it? What size is the screen that you are looking at?
The way in which we consume content is changing. Increasingly, we are consuming content while on the move – glancing at a smartphone or tablet while doing something else – like riding on a train or sitting across from a friend in a bar!
Creating content on any platform requires understanding your audience which is made easier by thousands of data points made up of interactions and conversations. Top level demographic information like age, gender, interests and online behaviour can be gleaned from dashboards, and if you have the resource, one to one conversations.
But how does context change in a mobile world?
A mobile phone has properties that make it different to a 'Desktop' computer. Tablets and phones know where they are in time and space, they are also personal – meaning that the apps, calendar and behaviour is that of a single individual. For content to be contextualised in a mobile environment, marketers need to consider the 'Where', 'When' and 'How' dimensions just as much as 'Who' and 'Why'.
Companies that use SMS text messaging for marketing have known this for years, but now channels like Instagram and Facebook are increasingly mobile – viewed and consulted at point of sale. So your mobile content team needs to be thinking like your customer:
Where are they now?
What are they doing?
Is this the best time to 'interrupt' them?
There are tools to help. Iconosquare (previously known as Statigram) includes an interesting graphic which shows when you post on Instagram versus when your followers are active.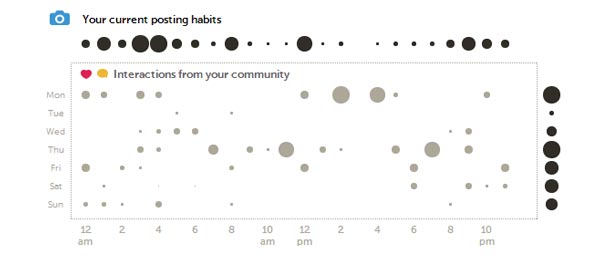 Relevance is still the most important consideration for content creation and amplification.